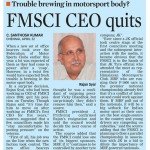 In a surprise decision, Rajan Syal, who had been working as CEO of FMSCI since 2009, quit his position on Tuesday.
Though Rajan said "It's time for him to move on after working as FMSCI's first CEO for five years", sources suggested that a few councilors made his "stay uncomfortable by putting pressure" on the veteran.
News courtesy: Deccan Chronicle. Read more from the original source.