Comp No. 5 , Samir Thapar crashed into paddy fields during first stage of MRF Rally of Maharashtra 2016. He retired immediately after that.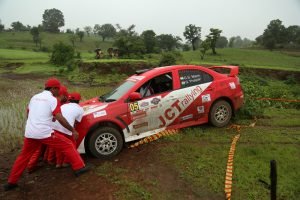 Comp No 11, the young and new Star on INRC scene, Dean Mascarehans, toppled in Kavanai, 1st stage , and ended sideway into the ditch. Thanks to the roll cage and other safety measures in the vehicle, nobody was hurt at all. 

Oblivious to the thrilling action happening around, villagers were engrossed in their daily routine. As it is the monsoon, this area is busy in the farm work. Beautiful nature has blessed this region.