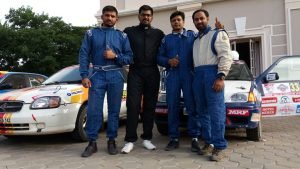 This time in 2nd round of INRC 2016 we have 2 Local entries from Nashik.
Both the team are 1st timers for Four wheeler as they are bikers who used to participate in Motocross and other rallies.
Sujay Kute (Driver) and Shamim Khan (Navigator)
Ganesh Lokhande (Driver) and Kaustubh Machhe (Navigator)
As a practice for Nasik rally they played Coimbatore round to explore with little experience for home town. Both the team were  participants in FMSCI Cup at Coimbatore. Now in Nashik Kaustubh & Ganesh entering again in same category FMSCI Cup. But Sujay & Shamim are entering in Mitsubishi Cedia in IRC category.
In a chat with them when asked about change from biker to car rally drivers all of them said considering more safety and age, preferred to four wheeler rallies now. And though passionate about motor sports it was costly affair at early age. Now as they can manage their own finance they fulfill their dream as a car rally competitors.
They said full season of 5 bike races is equal to 1 car rally . As no financier is available they need to manage their own funds. They arrange their vehicles on rent and get support from other rally drivers. Hoping to have their own vehicles by 2017 rally .
They were following as spectators to WISA car rallies since 2006. Due to lack of family support could not enter in car rallies finally entering in Home town as a IRC 2016 competitors.
It's time for Nashikites to come and cheer up  and give them overwhelming response at shake down. Lets meet them on 27th August, at 3.30  pm at Sandeep University.